The name of these cookies are Surprise Cookies. This is not because you can't know what they are, it's because if you didn't make them and you just took one and bit it you would be surprised - because there is a secret marshmallow inside! When we made a bunch of cookies 2 years ago, these were everyone's favorites. We are also excited that we actually get to bake cookies again, since the last few batches we've made have to refrigerate for a while. This is another favorite from
Martha
. So here it goes.
cookie ingredients
1 3/4 c flour
3/4 c cocoa powder
1/2 tsp baking soda
1/2 tsp salt
1/2 c unsalted butter, softened
1 c sugar
1 egg
1/2 c milk
1 tsp vanilla
12 large marshmallows, cut in 1/2 horizontally
chocolate frosting ingredients
2 c confectioners sugar, sifted
1/2 stick unsalted butter, melted and cooled
1/4 c cocoa powder
1/4 c milk
1/4 tsp vanilla
instructions
1. preheat oven to 375
2. whisk together flour, cocoa, baking soda, and salt. set aside
3. in the bowl of an electric mixer, cream butter and sugar until fluffy.
4. add egg, milk, and vanilla. beat until combined.
5. add flour mixture, in batches
6. drop tablespoons of dough on ungreased cookie sheets, about 2" apart. bake 10-12 min
7. as soon as cookies come out of the oven, place a marshmallow half, cut side down, on each cookie.
8. bake until 2-3 min until the marshmallows are just beginning to melt
9. cool completely.
We have to wait for the cookies to cool completely before we frost them. So, we'll be back in a bit.
10. make frosting. whisk butter, cocoa powder and sugar together. whisk in milk and vanilla.
Cornelius' tip: I definitely recommend an electric hand mixer for this one - its really hard to stir it by hand, especially if you want to get the frosting smooth.
11. cover marshmallows with frosting until they are hidden.
12. let the frosting dry. then eat them! or store them, but make sure to put wax or parchment paper between the layers.
These are still one of our favorite cookies. We do recommend eating them as quickly as possible though because of the fresh icing and marshmallow. Delicious...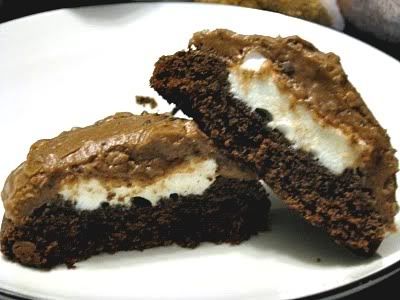 Surprise!!!!
pig, out.